In this review of Worldwide Brands I'm going to cover what WWB is, how to find low priced and reliable wholesalers and drop-shippers with it, both the good and bad things about Worldwide Brands, and whether or not it's worth the $299 price tag.
What is Worldwide Brands?
Worldwide Brands is a directory of drop shippers, wholesalers and manufacturers. There are about 8,000 suppliers in their searchable database, and from these there are over 16 million products that you can buy at wholesale prices.
Worldwide Brands does not specialize in just wholesalers or drop-shippers — they have about the same number of each.
Within the members area you can search for products or suppliers by keyword, brand, category name and product description.
Worldwide Brands is by far the largest directory of products — the closest competitor is Salehoo, which has a similar number of suppliers, but only lists about 1.6 million products on their site, compared to over 16 million (as of 2018) in WWB's database.
Worldwide Brands offers members a guarantee that all their suppliers are reliable and safe to buy from.  They are able to do this because all of the suppliers in their directory have been researched by their staff – who do test orders and visit the supplier's warehouses to check they are legitimate and able to fulfil orders.
Worldwide Brands also has strong links to eBay.  WWB was founded in 1999 by Chris Malta — an eBay power-seller who also published a book about selling on eBay in 2006.  It's the only directory to be certified by eBay.
The company is based in Florida, and although they list suppliers from around the world, their focus is on suppliers who are based in or supply to the USA.
Lifetime membership costs $299, although there discounts of as much as $30 available.  There are no additional costs or ongoing fees.
Below is a video of what's inside Worldwide Brands:
Why Join a Directory Though?
I will only talk about this quickly, but if you're searching for information about Worldwide Brands it's important to know what the alternative is.
There are two ways to find wholesalers and drop shippers online:
1. Search google for suppliers
2. Use a directory
The first option is ok, but it takes longer to find suppliers, you won't find as many as not all of them optimise their sites to be found in search engines and there's no way to be certain they are reliable until after you've bought from them, which is a risk even if you are only placing small orders – a bad supplier can jeopardise your precious eBay feedback score or business reputation.
Using a directory though has two key advantages:
1. It's much faster and easier to find suppliers as they are all in one place
2. You can avoid scams and unreliable or counterfeit suppliers
Because directories go out and look for wholesalers and dropshippers it's much easier to find suppliers for a product in a directory than starting from scratch yourself searching on Google.
All the suppliers are in one place, so you can search for a product and immediately get a list of who sells that product – there are often multiple suppliers for each product so you can contact each and negotiate down prices.
You also know that a supplier found thorough a directory like Worldwide Brands or Salehoo will be reliable because they have all been researched and tested before being added to the directory.
Worldwide Brands conduct the most research into suppliers — this includes visiting their warehouse and placing anonymous orders to test them out before certifying them.
Finding Suppliers with Worldwide Brands
The screenshot below is an example of the search results you'll find in the Worldwide Brands members area after joining.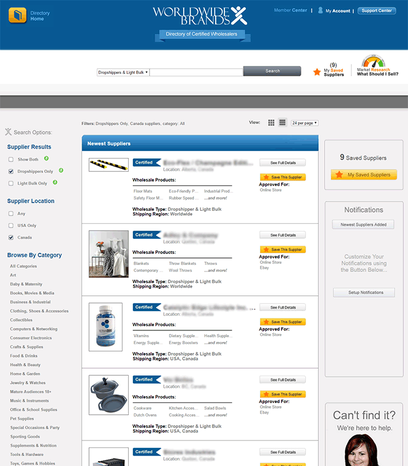 The results are listed down the middle of the page and include the name of the supplier, 'wholesale type', where they ship to and their contact details.
For example, if you searched for "patterned mens socks", you would get a list of wholesalers and drop shippers that sell them at trade prices.
Along the side of the page there are options to filter your search — you can set it to show only the wholesalers that sell in 'light bulk' (more about that later), or just the drop-shippers. There are also options to filter by country, category, etc.
At the bottom left you'll notice a "can't find it" icon. That's where you can ask someone at World Wide Brands to find a supplier for you, or if they don't currently have one already among the 16 million products listed, they will usually offer to find one for you.
Click here to see a preview of Worldwide Brands
There's also a Worldwide Brands app that works on iPhones and android devices, where you can search for suppliers, compare products, save your favourites and make contact with them.  Here's a screen shot of the app on an iPhone:
Worldwide Brands – The Good Bits
Of all the supplier directories, including Salehoo and Doba, Worldwide Brands has the largest directory of products.   There are over 8,000 wholesalers and drop-shippers and 16 million products listed — much more than any competitor.
Salehoo lists 1.6 million products and Doba 2.0 million products – much less than Worldwide Brands.
Each year on average about 500,000 new products are added to WWB, so it is still growing and up to date.
Worldwide Brands has about the same number of drop-shippers as wholesalers, and most of the wholesalers sell in 'light bulk' too.
Light bulk suppliers have low minimum orders, usually around 5-10 units, so you can buy quite small amounts but still benefit from wholesale prices.  Of course it's still cheaper (per unit) the more you buy, but WWB has a lot of wholesalers that are happy to deal with small or new businesses at low prices.
The best feature is that Worldwide Brands guarantee all the suppliers in their directory are reliable – this is one of the key benefits of membership.
Worldwide Brands research every new supplier in depth before adding them to their database – that includes placing test orders with the supplier and visiting their warehouse to check they are legitimate and able to fulfil orders.
A problem with all directories is that it can be difficult to find wholesalers and drop shippers that are cheap enough to resell their products for a profit on popular online marketplaces like eBay and Amazon.
But this is why Worldwide Brands being the only directory to be eBay certified and founded by a former eBay power-seller matters.
This plus the fact that World Wide Brands has more products than any competing directory means you will often find you can get lower prices from suppliers in Worldwide Brands than elsewhere.
When you find a wholesaler or drop shipper in WWB you get to see the contact details for each supplier, so you can contact them directly, build relationships and negotiate on prices — saving money by cutting out the middleman.
Click here to see a preview of the Worldwide Brands database
When searching for products, their support team can be very useful .  If you can't find what you're looking for they will send you a list of suppliers that they recommend, and if there are none for the product you're looking for they offer to find and add new suppliers of that item to the directory.
That's why there are some obscure niches covered — members have requested them and suppliers have been found and added. Some recent examples – from December 2017 – are suppliers for 'Gourmet Beef Jerky', 'Pattern Paint Rollers', 'Vacuum Insulated Bottles', and 'Plastic Polish'.
This is the reason that many suppliers listed on Worldwide Brands cannot be found elsewhere — on Google or in other directories.
They also cover all the major categories — including tech, jewellery, clothing, electronics, etc. They list suppliers for both major brands and generic goods.
WWB list suppliers from around the world, but they are strongest in the USA, China, the UK, Australia and Canada.
There is a 60 day money back guarantee with WWB. If it's not what you are looking for, you can get a full refund easily.
The Negatives
The main downside to Worldwide Brands is the fee to join at $299 (*update: I found a $30 off link here*).
But consider it this way: Salehoo is $67 a year and Doba is $59 a month, which works out to a very expensive $708 a year.
The WWB membership fee is a one time payment for lifetime access and there are no recurring payments or hidden costs, so it works out cheaper in the long term.
Also, per product listed Worldwide Brands is the cheapest — as it has 16 million compared to Salehoo's 1.6 million and Doba's 2 million.
It's still expensive though, so if you do join use this discount link to make it a bit cheaper.
In my opinion though Worldwide Brands is the best directory of drop shippers, wholesalers and manufacturers — including both the large scale bulk suppliers and 'light bulk' wholesalers.
The only downside is the initial cost of membership.  Worldwide Brands is the leading directory of wholesalers and drop shippers for a good reason – it is by far the best.
WorldwideBrands – In Conclusion
Worldwide Brands isn't cheap, but it is the best directory of wholesalers and drop shippers. If you're starting a business selling online or on sites like eBay then it is a worthwhile investment.
The initial membership fee of $269 (with discount) is high, but Worldwide Brands has the largest number of products of any directory — 10x what the closest competitor can offer and many suppliers that you will not find elsewhere.  That enables your business to find lower prices and better deals than anywhere else.
Worldwide Brands lists over 8,000 drop shippers and wholesalers, dealing in both bulk and light bulk, to choose from and it's probably the easiest way to find low priced and reliable suppliers – with more than 16 million products at wholesale prices.
Worldwide Brands also comes with two guarantees — a money back guarantee for 60 days, and a guarantee that there are only legitimate suppliers in their directory.
Click here to find out more about Worldwide Brands, and here to get access to the $30 off discount page